UM Higher Education Alumna Whitney Woods (Ed.D. '20), and Higher Education Chair Neal Hutchens will present a paper at the virtual 2020 Annual Education Law Association (ELA) Conference in November.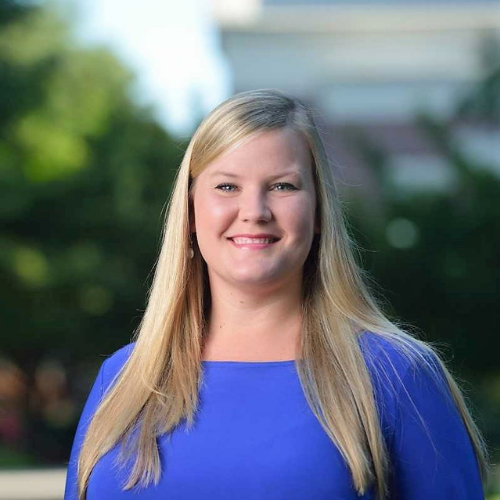 "This presentation with Dr. Hutchens is important to me because it allows me to share my dissertation research with other professionals within the higher education and law communities," said Woods. "From the moment I began working on this project within the Ed.D. program at the University of Mississippi, I knew I wanted my research to make a positive impact on students and professionals in higher education, and presenting at a national conference is a major step forward in making that dream a reality."
As a collaborative effort, Woods and Hutchens will present "Intersections of Law and Campus Policy Related to Emotional Support Animals," which compares policies across thirty-one institutions that have adopted campus policies to support emotional support animals.
Woods notes that colleges and universities are well acquainted with the requirement to permit assistance animals for students with physical disabilities in student housing, namely per the standards under the ADA and Section 504 of the Rehabilitation Act. However, in recent developments with the Fair Housing Act, significant legal implications have emerged for emotional support animals on campus.
Their presentation offers guidance for higher education institutions in constructing student-centered emotional support policies instead of focusing solely on the legal aspects of compliance. The presentation also provides an overview of legal standards related to emotional support animals on campus and the distinctions between support and service animals as defined under the Americans with Disabilities Act (ADA).
"I want to thank Dr. Hutchens and the Higher Education community at UM for all of their help and support," said Woods. "Without them, being able to share the research and knowledge I learned would not be possible!"
Dr. Whitney Woods is a native of Brandon, MS. She obtained her bachelor of science degree in secondary education in English, a master's of science degree in counselor education/student affairs from Mississippi State University. Woods serves as a staff member in UM's Career Center as a career advisor. She teaches career and life planning courses, supervises practicum students, and promotes positive student development as they make career and life choices.
By Veronica Crawford