UM Higher Education Ed.D. student Maxine Greenleaf has received an appointment to the Strategic Communications Executive Committee for the Association of Public and Land Grant Universities (APLU) Council. She serves as an executive director of Communications and Marketing in the Division of Institutional Advancement at Jackson State University.
"I've spent over 14 years of my career in higher education because I believe in its transformational power," said Greenleaf. "This opportunity allows me to contribute to the conversations on a national level to assist with improving access and communicating the public good benefits of higher education."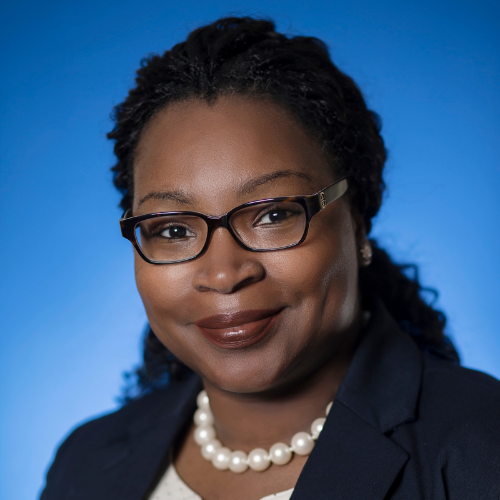 The APLU is a research, policy, and advocacy organization and the oldest higher education association in the country committed to strengthening and advancing public universities' work in the U.S., Canada, and Mexico.
"Higher education has opened many doors for me that would have otherwise been closed," said Greenleaf. "It has also assisted me in helping to provide for others."
Through APLU's Council on Strategic Communications (CSC), Greenleaf and other senior public university leaders with similar positions work to create coherent messaging and effective communication strategies around public higher education's value to key constituencies.
"I care about the social mobility of our society to improve our world," said Greenleaf. "I know the impact that higher education had on my life when I was a single parent struggling to make ends meet.
In 2019, the Mississippi Business Journal selected Greenleaf as a Top 50 under 20 honorees. Considered one of the state's most prestigious awards, it highlights individuals who have made significant contributions to Mississippi's overall economic progress.
Greenleaf remarks that she has always had a thirst for knowledge. "Working in communications and marketing, the Ed.D. degree program at the University of Mississippi has allowed me to better advise my superiors and other colleagues because of the scholar-practitioner lens that I can function in thanks to our program," said Greenleaf.
"The Ed.D. program has given me a deeper understanding of the inner working of higher education and allowed me to have a greater impact. My professors are rock stars in the field and have a heart for the issues that plague higher education."
"I would like to thank my professors and Cohort 3 for their support," said Greenleaf. "I have enjoyed my journey in the program."
Maxine Greenleaf is a native of Itta Bena, MS. She earned a bachelor's degree in mass communication from Mississippi Valley State and a master's degree in mass communication and journalism from Kent State University. Greenleaf has held director roles at Mississippi Valley State and Leflore County School District. She is also a member of various organizations, such as the College of Public Relations Association of Mississippi, the Rotary Club of Jackson, American Marketing Association, Public Relations Society, Alpha Kappa Alpha Sorority, Inc. – Beta Delta Omega Chapter, among others. She is married to Eleazarus Greenleaf, and they have three children, Sydney, Jaiden, and Avery.
By Veronica Crawford