The UM Department of Higher Education in partnership with the Sarah Isom Center for Women and Gender Studies has received approval to offer a Ph.D. in Higher Education with an emphasis in Gender Studies. Current or incoming students may now pursue this new emphasis area in the Ph.D. in Higher Education.
The Ph.D. emphasis in Gender Studies allows students in Higher Education to combine their interests in higher education with those in gender and sexuality.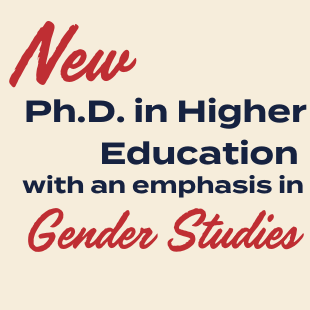 Dr. Jaime Harker, professor and director of the Isom Center states that "the program's goal is to bring graduate students and faculty together from different Ph.D. granting departments at the university. It allows us to build stronger partnerships and help home departments recruit graduate students to grow their programs."
Dr. Neal Hutchens, professor and chair of the Department of Higher Education, stated, "Faculty members in the Department of Higher Education are very excited about this partnership with the Isom Center and the scholarly possibilities that it opens up for students."
For more information about this program and all degree offerings in the Department of Higher Education, visit highered.olemiss.edu.
By Veronica Crawford