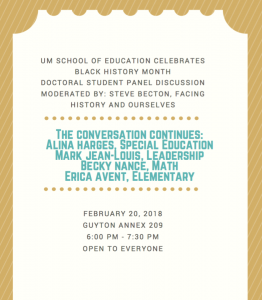 The state of education for African-American students in Mississippi and the strategies to ensure that these students receive an equitable education will be explored during a panel discussion at the University of Mississippi on Tuesday, Feb. 20.
"The Conversation Continues," as the panel discussion is titled, will take place at 6 p.m. in Guyton Annex 209. The UM School of Education is sponsoring the discussion that is being held as part of Black History Month. The public is invited to attend.
The panel will feature full-time graduate students who are studying education as well as some who are already working in kindergarten through 12th-grade classrooms in the north Mississippi area, said Nichelle Robinson, diversity officer and associate professor with the School of Education.
Robinson said the title of the event refers to the conversation on this topic that began at a School of Education symposium held in September. During last semester's symposium, a panel discussion was held that focused on the 1954 Brown v. Board of Education of Topeka U.S. Supreme Court decision that declared the state laws separating public schools for black and white students were unconstitutional.
Last semester's symposium asked the question, "Where is Mississippi 63 years after the court case of Brown v. The Board of Education?" and the panel featured individuals who were knowledgeable about the history of education in Mississippi. The panel included members from the Mississippi Department of Education, policy makers, professors and journalists.
Tuesday's panel discussion will continue this discussion, but feature the perspective from students in the school's doctorate program.
"My thing was, you know what, let's keep the conversation going that we started in September," Robinson said. "But this time, let's use our doctorate students. They are actually in the classroom everyday working with these kids.
"I want to see what their take on the topic is, and see if it is different from the policy makers, and those who participated in our panel back in September."
The panel discussion will be led by moderator Steve Becton, who will ask panel members questions regarding their firsthand experience working in the Mississippi education system. The doctorate students on the panel are from different areas within the education system. Panelists will be Alina Harges, special education teacher, Mark Jean-Louis, educator in leadership, Becky Nance, math teacher, and Erica Avent, an elementary school teacher.
For more information about this event, contact Robinson at ncboyd@olemiss.edu.