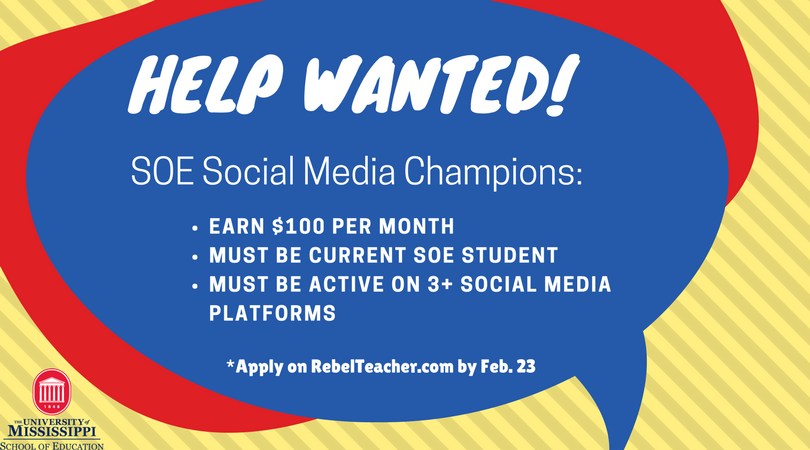 The SOE is now seeking applications for its new "Social Media Champion" program in order recruit influential students to help support school-wide marketing initiatives.
Applications are due by Friday, Feb. 23. The Social Media Champions, who will promote the school using their own social media platforms, will offer a fresh perspective on student life at UM's education school. All applicants must create a 20-second video explaining why they want to be a Social Media Champion and tag @OleMissEdSchool on Facebook, Instagram or Twitter to complete their application.
"We hope this program will increase engagement with our school on social media and help us better inform our future and current students about ways they can be more involved in student life and the local community," said Andrew Abernathy, manager of marketing communications for the School of Education. "The world is changing. There are so many more tools out there to engage and communicate with our key stakeholders. We want to use our very best students to help promote our image and tell our story through social media."
Program leaders hope to hire three students who are currently SOE students. The students will take on the task of posting on all the different forms of social media they own and will earn $100 a month doing so. All social media champions will meet regularly with the school's marketing communications team and undergo new media training.
To find out more information, or to apply to the "Social Media Champion" program, visit RebelTeacher.com by Feb. 23.