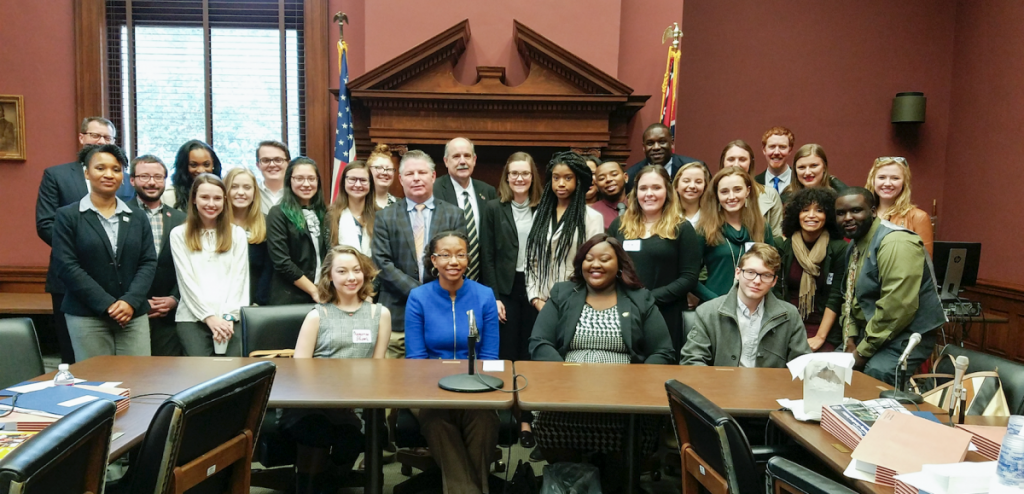 Twenty UM students from the Mississippi Excellence in Teaching Program (METP) and Department of Public Policy Leadership, recently visited the Mississippi State Capitol in Jackson for the Campus @ the Capitol event in February.
Hosted by education advocacy group, Mississippi First, Campus @ the Capitol is an annual event for college students who are interested in learning about education policy and advocacy. Students were given the opportunity to hear from and speak with education policymakers and House and Senate Education Committee members. This was the  fourth year that UM students have had the opportunity to participate in the event with groups from other schools, including Millsaps College and Tougaloo College.
"My favorite part of the trip would probably be going to the Department of Education and hearing how passionate they were about making change," said Carolyn Glaze, a Secondary Math and Public Policy Leadership sophomore from Hattiesburg. "The people we talked to had such detailed plans for the future of education in Mississippi and it was really encouraging to hear that. Hopefully they are actually talking to the policymakers and sharing their passion for this."
Mississippi First is dedicated to advancing the best education policy to ensure educational excellence for every child in Mississippi. Founded in 2008, the advocacy group has been successful in passing two pieces of watershed legislation in Mississippi: The Mississippi Public Charter Schools Act and the Early Learning Collaborative Act of 2013.
"This event is really important for our students because it gives us the opportunity to take them down to Jackson and get them in a room with people who are key players in education in Mississippi, which is difficult to do," said Blake Adams, METP program coordinator. "The members of the House and Senate who we talked to were pretty candid and they were willing to answer questions from students that were controversial—they answered the tough questions pretty much head on."
Throughout the day at the capitol, students had the opportunity to attend a morning session with the Mississippi State Legislature, including a panel with House and Senate Education Committee members, and visit the Mississippi Department of Education for small group discussions.
"Even if you're not in the School of Education, if you have the slightest interest in education and the policies that shape our state's education, this was a really good trip," said sophomore Secondary English Education and Public Policy Leadership major Jamie Sproles. "This trip allows students to kind of dip their toes into what education policy at the capitol looks like, and also understand the importance of Mississippi education and teaching in the state."
By Liz McCormick