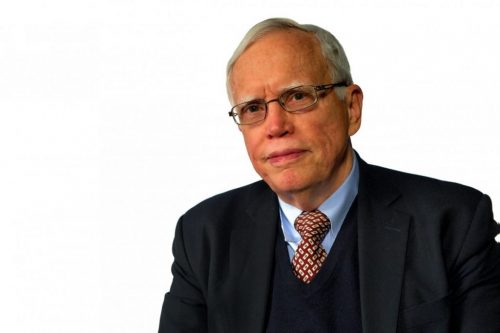 Nobel Prize-winning economist James J. Heckman will present his research on how investments in quality early childhood education can yield exceptionally high returns at a free and public event at the Mississippi Civil Rights Museum at 2:30 p.m. on Thursday, Jan. 25.
The event is open to anyone who registers online. This is the second event in a three-part series hosted by the University of Mississippi's Graduate Center for the Study of Early Learning (GCSEL). The speaker series is designed to bring leading experts from across the nation to meet with Mississippi business leaders, educators and policy makers and discuss the economic benefits of quality education programs for children during early childhood, which spans from birth to age 5.
"High-quality early childhood development plays a crucial role in shaping the capabilities that lead to flourishing lives," said Heckman, who received a Nobel Prize in economics in 2000. "Investments in early childhood for low-income children from birth to age five create opportunity without any trade offs in equity—quality programs pay for themselves, even after accounting for the costs of investment."
Heckman will explain how investing in early childhood education as early as infancy is a smart business move for Mississippi and use economic models to show a high yield on dollars invested into quality early childhood programs—the ROI can exceed a seven-to-one ratio in the form of long-term cost savings.
Professor Heckman will be available to answer questions from the public and news media following the event.
"We are extremely fortunate to have the benefit of Dr. Heckman sharing his expertise with us," said Cathy Grace, co-director of GCSEL. "Our hope is that by sharing his knowledge on the importance of investing in early childhood education as a foundational part of workforce development, we will be called to take action. If collectively we take his expert advice, Mississippi's economy now and in the future will become energized by investing in our young children so that we will be successful in growing our workforce."
Mississippi does not have currently universally funded public pre-K education. State-funded Early Learning Collaboratives—which are comprised from Head Start agencies, school districts, child care centers and non-profits and adhere to standards from the National Institute for Early Education Research—provide early childhood education programs at 14 sites statewide, according to the Mississippi Department of Education.
Heckman is the Henry Schultz Distinguished Service Professor of economics as well as a professor of law at the University of Chicago, where he also directs the university's Economic Research Center, Center for the Economics of Human Development and the Center for Social Program Evaluation. His research focuses primarily on human development with an emphasis on the economics of early childhood development.
The first speaker series event took place on Dec. 12 in Jackson at Mississippi Public Broadcasting when Virginia Tech researchers Craig and Sharon Ramey presented findings from the Abecedarian Project. The groundbreaking study, which the Rameys helped start in the early 1970s in North Carolina, showed significant and positive long-term effects of early childhood education among low-income children. The study, which has been replicated at multiple sites, showed that children who received quality early childhood education were more likely to have higher IQs, finish high school, attend college, hold steady employment and more, as adults. Data from Abecedarian Project participants is still being collected today after more than four decades.
The third and final event will take place in Jackson on Tuesday, Feb. 6 when Dr. Pat Levitt, a brain scientist and developmental pediatrician with appointments at Harvard University, the University of Southern California and Children's Hospital Los Angeles, will present the latest neuroscience research in early childhood education.
The speaker series is co-sponsored by GCSEL, W.K. Kellogg Foundation, North Mississippi Education Consortium, Mississippi Kids Count and the University of Mississippi School of Education.
By Andrew M. Abernathy