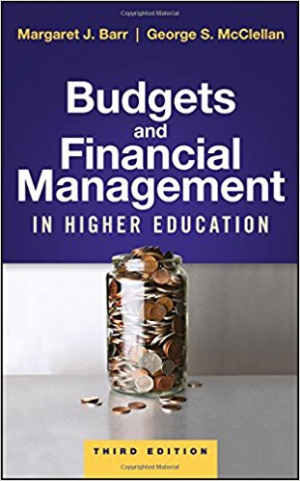 George McClellan, UM associate professor of higher education, recently co-published a new edition of "Budgets and Financial Management in Higher Education," a widely used textbook for higher education budgeting.
Published by Jossey-Bass, the third edition is co-written with Margaret J. Barr, a professor emeritus at Northwestern University.
"It's a fairly small book. You don't have to be a finance major or have a MBA to understand it," McClellan said. "We don't use any jargon. It's just for people who need a basic understanding of how money flows through a university, what budget models to use in different situations, and the strength and weaknesses of those models."
The book focuses on how to build and track budgets successfully while also navigating the financial environment of higher education today.
"It's especially important today because there is less money going into higher education," McClellan said. "Thirty-five years ago, so much money was flowing through, that we didn't know what to do with it. Now, there's not only more (financial) pressure on higher education administrators, but also on our students. So, that's kind of like a double whammy. Also, most deans and department heads move up through the faculty ranks and are suddenly expected to know how to run budgets and what models to use."
McClellan also explained that the purpose of the book is to teach people how to budget honestly and to harness and multiply the power of money over time.
"Instead of asking for twice as much as you need and settling for half of it, which is really bad budgeting, we teach people to ask for what they need and to prove they need it," McClellan said. " By doing that, they are more likely to get the help they need in the future. We teach people how to take one dollar and leverage it and turn it into five by finding matching sponsors or donors or grant dollars to make money work for them."
Before joining the UM Department of Higher Education, McClellan served as a higher education administrator for more than 35 years. He is the former vice chancellor for student affairs at Indiana University – Purdue University Fort Wayne.
By Kathleen Murphy