OXFORD, Miss. – Dr. Phillis George, interim chair and associate professor of higher education, was named a member of the newest cohort of the ACE Fellows Program. 
The American Council on Education (ACE) Fellows Program is a customized learning experience that enables participants to immerse themselves in the study and practice of leadership. This year, ACE selected 52 emerging leaders for the 2021-2022 class of the ACE Fellows Program.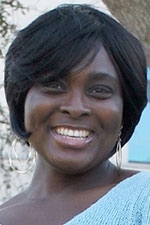 "It's a great honor to have been selected as an American Council on Education (ACE) Fellow," said George. "The ACE Fellowship is considered the gold standard in higher education leadership development, and it will help further my knowledge and understanding of institutional strategies and opportunities to promote and support faculty development and diversification efforts here at the University of Mississippi."
George is known for her outstanding academic leadership qualities, as well as her intention to make a difference in education. As an ACE Fellow, she will engage and learn from current professionals in senior leadership roles within higher education.
"I'm especially excited about the applied opportunities for leadership development," George shares. Within the program, fellows will learn skill sets that are essential in moving higher education forward.
George joined UM in 2014. Her research focuses on policy issues pertaining to access and equity in college student retention and graduation, service-learning and civic engagement, curriculum design, and college teaching and learning. She received her Ph.D. in Educational Leadership & Policy Analysis from the University of Wisconsin- Madison, as well as her MSc in Sociology from Oxford University.
Edit made on September 16, 2021 to reflect Dr. George's new position as interim chair of the department of higher education.