Nonprofit supports future educators with a commitment to serving local students with Down syndrome.
OXFORD, Miss. – 21 United, a locally-founded nonprofit organization dedicated to raise awareness and advocate for the inclusion, value, and acceptance of individuals with Down syndrome, recently established a new scholarship in the University of Mississippi School of Education to support future educators with a commitment to better serving students with Down syndrome.
Established in 2014, 21 United serves families across North Mississippi and beyond. Specifically, the organization hosts several events each year to raise awareness and support for Down syndrome, including the Buddy Walk and an annual free-of-cost family summer camp. 21 United recently partnered with SOE's Mississippi Excellence in Teaching Program (METP) to continue socially-distant programming with a virtual Halloween dance party for families and current METP fellows this past October.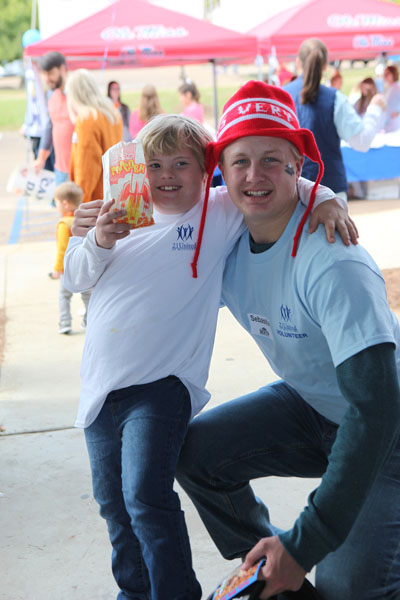 The partnership between 21 United and the UM School of Education stems from many years of involvement with the organization's programming. Pictured left are James Rayner Buddy Walk participant and METP fellow Sebastian Mink at the October 2019 annual event.
"Part of our mission is to support our special needs community," shared Bradley Rayner, co-founder of 21 United. "We couldn't think of a better way to do so than providing a scholarship for students in the School of Education at The University of Mississippi pursuing special education with a desire to remain in our community."
The 21 United Scholarship supports graduate students enrolled in special education degree programs within the University of Mississippi School of Education. Recipients will exhibit a commitment to working with students with Down syndrome, and first priority will be given to students who intend to remain in North Mississippi for at least two years following graduation.
The establishment of this scholarship comes befittingly for World Down Syndrome Day on March 21st, a global day of awareness and advocacy first recognized in 2012 by the United Nations. The selection of this particular day represents the triplication (trisomy) of the 21st chromosome, which cases Down syndrome.
"Education and inclusion are inseparable," said Ann Monroe, associate professor in the School of Education and 21 United Board member. "World Down Syndrome Day—and this new scholarship at UM—celebrate these concepts and honor individuals like my uncle, Jimbo, who are valued and important members of society."
In addition to a $1,000 annual scholarship, recipients will be invited to participate as a Board member for the organization for the term corresponding to their scholarship award. The first 21 United Scholarship will be awarded for the 2021-2022 academic year.
21 United welcomes donations of any size in support of this scholarship. To make a gift, please visit www.umfoundation.com/21United or contact School of Education Development Officer Kelly Smith Marion at ksmith13@olemiss.edu. 
To learn more about 21 United, and how you can get involved, please visit www.21united.org.
By Kelly N. Smith Marion