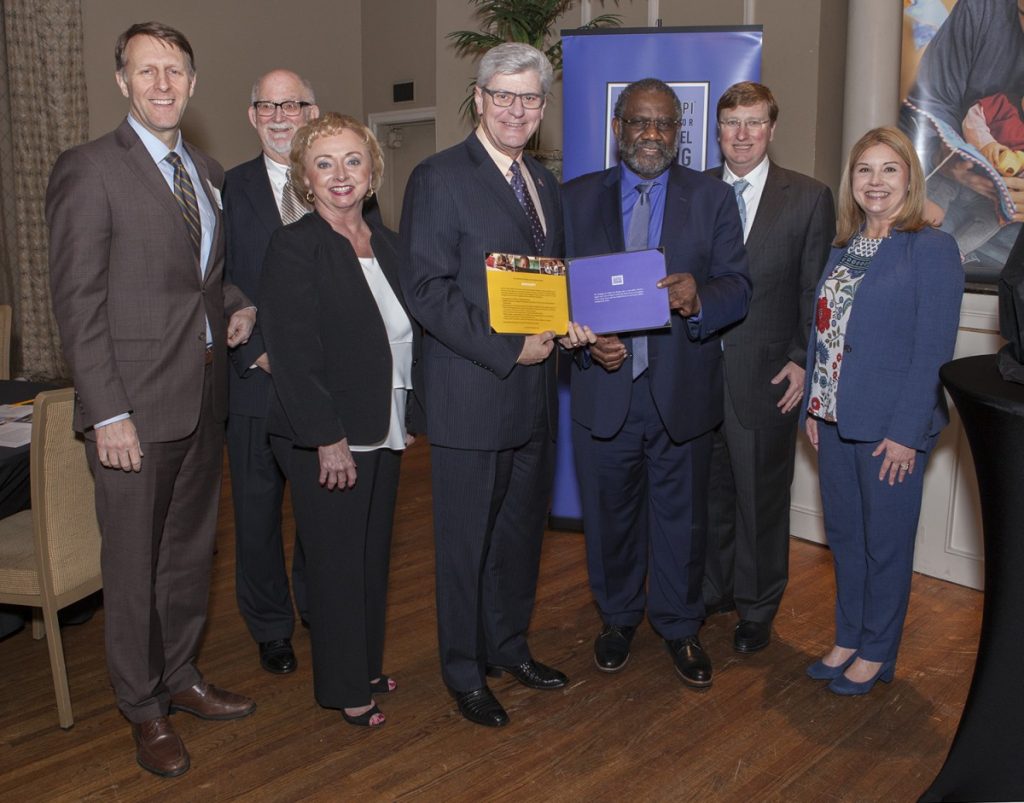 The Campaign for Grade-Level Reading (CGLR) recently recognized the Mississippi Campaign for Grade-Level Reading as a State Pacesetter for its efforts to improve early literacy and student success on Feb. 15 at the Old Capitol Inn in Jackson.
The State Pacesetter honor recognizes both Mississippi's policy focus on grade-level reading and the launch of the Mississippi Campaign for Grade-Level Reading in 2016.
The Mississippi Campaign is currently under the leadership of Angela Rutherford, director of UM's Center for Excellence in Literacy Instruction and a professor of Teacher Education
"We are extremely proud to receive this honor," Rutherford said. "It speaks to the commitment of the many organizations, individuals, and policy makers who share a vision that all children in Mississippi must read proficiently. The Campaign's recognition of our State is to be celebrated and shared with our many partners."
The Campaign also recognized Mississippi Gov. Phil Bryant for his leadership in making third-grade reading proficiency a priority of his administration's education reform efforts.
"This is a great honor for our state, and it validates our hard work to ensure Mississippi's schoolchildren are reading at grade level by the time they complete third grade," Bryant said. "I am grateful to the Campaign for Grade-Level Reading for recognizing our efforts, and thank everyone involved in making this State Pacesetter award a reality."
When launching in 2016, the Mississippi CGLR consisted of two recognized communities — Gulfport and Lafayette/Oxford/University Reads. Both communities were finalists for the 2017 All American City-Grade Level Reading Award, and Gulfport was honored in 2016 for making measurable progress in school readiness for children from low-income families.
"Pacesetter Honors are among the highest awards presented to Campaign communities" said Ralph Smith, the managing director of the CGLR. "We are very proud of the efforts in Mississippi to begin a statewide CGLR to support the Mississippi Literacy-Based Promotion Act. They remind us that we are seeing great progress and real results all across the country."
Building on that progress, and with the help of a small grants fund established by the Mississippi Association of Grantmakers, Hattiesburg became a recognized CGLR community on Jan. 29, and an additional seven communities have signed Letters of Intent to join the Campaign: Indianola, Jackson, Starkville/Oktibbeha County, Southaven, Tupelo/Lee County, Vicksburg/Warren County, and Winona/Montgomery County.
The Pacesetter Award  also recognizes progress achieved following passage of the Literacy-Based Promotion Act  and the Early Learning Collaborative Act, both signed into law by Governor Bryant in 2013.
The Mississippi Department of Education's implementation of the Literacy-Based Promotion Act is reaping dividends for Mississippi students.  Mississippi showed a significant increase in fourth grade reading on the 2015 National Assessment of Educational Progress (NAEP), bucking the national trend of flat or declining performance. Compared to the 2013 scores, Mississippi was one of 13 states that had a significant increase in fourth grade reading.  Overall, reading proficiency increased from 21 to 26 percent.
"Mississippi is leading the nation in gains on the fourth grade NAEP assessment because of our schools' commitment to higher academic standards, their intense focus on literacy and the hard work of students, teachers and administrators," said Carey Wright, state Superintendent of Education. "These scores show we are making significant strides toward improving student outcomes.  We are thankful for our partnership with the Campaign to assist Mississippi in building a strong foundation for children to be successful readers. We expect Mississippi to reap the benefits for years to come," Wright said.
The Early Learning Collaborative program, which provides funding to local communities to establish, expand, support and facilitate the successful implementation of quality early childhood education and development services is another key part of the state's efforts to improve early literacy.
Mississippi's CGLR has benefited from strong support from the philanthropic and public sectors, with at least 15 state funders supporting work in communities and statewide.
Sammy Moon, director of the Mississippi Association of Grantmakers, said  "everyone has a role to play in efforts to make sure children are prepared for success later in life, and we know that if children don't learn to read, they won't be reading to learn.  One role for philanthropic leaders is to invest resources wisely in the creation of sound education policies, effective system reform efforts, and programs that have been proven to prepare children for reading success.  Those investments are the focus of the Mississippi Campaign for Grade Level Reading Campaign's Small Grants Fund." The fund is held at the Community Foundation for Mississippi
About the National Campaign for Grade-Level Reading
Launched in 2010, the Campaign for Grade-Level Reading is a collaborative effort of funders,
nonprofit partners, business leaders, government agencies, states and communities across the nation to ensure that many more children from low-income families succeed in school and graduate prepared for college, a career and active citizenship. Since its launch, the GLR Campaign has grown to include more than 300 communities, representing 43 states, the District of Columbia, Puerto Rico, the U.S. Virgin Islands and Canada — with 3,900 local organizations and 250 state and local funders (including 168 United Ways). To learn more, visit gradelevelreading.net and follow the movement on Twitter @readingby3rd.
About the Mississippi Campaign for Grade-Level Reading
Publicly launched in November, 2016, the MS Campaign for Grade-Level Reading is a statewide effort to help all children, especially those from low-income families, succeed in school and life by ensuring they read on grade level by the end of third grade.  This Campaign network is comprised of local civic leaders, parents, philanthropists, school officials, policymakers, researchers, healthcare providers, business leaders, and community organizations who are leading community-driven efforts to address major barriers to third-grade reading proficiency – school readiness, chronic absence, and summer learning loss – especially for low-income families.  Currently, 10 Mississippi communities are working to make a difference in the lives of Mississippi's children.