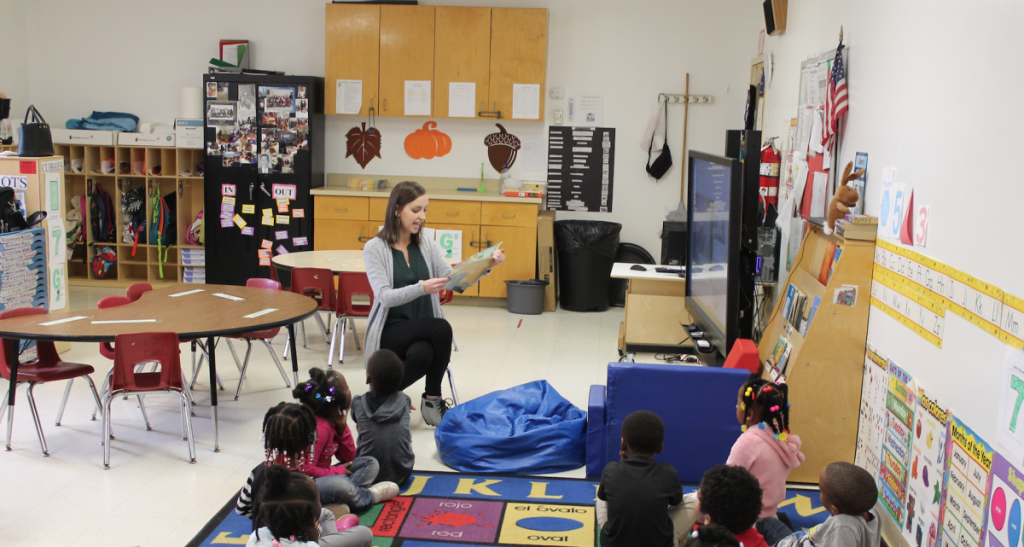 OXFORD, Miss. – On Nov. 7, members of the Mississippi chapter of Jumpstart participated in in the Read for the Record (RFTR) campaign by reading Thank you, Omu! by Oge Mora to young children across the state.
A national Jumpstart campaign, RFTF began over a decade ago to highlight the importance of building early literacy and language skills for children, so they enter kindergarten prepared to succeed.
Each year, Jumpstart selects one children's book and encourages educators across the country to read to children with the goal of breaking the world record for the largest shared reading experience. This year, Mississippi Jumpstart provided copies of the book, Thank you, Omu! to over 200 children and 60 classroom teachers across the state and read to an estimated 2,000 children across Mississippi.
"Jumpstart's Read for the Record is an annual event to raise awareness about the importance of literacy and early education," said Olivia Morgan, Mississippi Jumpstart program manager. "Investing in early education sets children up for life-long success, and the UM Center for Excellence in Literacy Instruction (CELI) loves getting out in the community to help raise awareness for the importance of early literacy."
Jumpstart is a national early-education program that strives to ensure every child in America enters kindergarten prepared to succeed. The Mississippi Jumpstart program conducts Jumpstart sessions throughout the state with about seven college AmeriCorps members entering a classroom at the same time to implement the Jumpstart session.
"The teams of Jumpstart members go out to the sites twice weekly, and those sites include head start centers, public and private preschools and daycare centers," said Morgan. "We currently have more than 70 Jumpstart members throughout the state with 45 of those members being students from the University of Mississippi."
Each year, Jumpstart chooses a book for the RFTR campaign that fosters language development, promotes diversity and appeals to young children. This year's book, Thank you, Omu! by Oge Mora is a 2019 Caldecott Honor Book and a winner of the Coretta Scott King/John Steptoe new talent illustrator award.
In 2013, the Jumpstart RFTR campaign broke the world reading record by reading with 2,462,860 children and adults. This year, they are hoping to break that record to spread awareness about the importance of early literacy.
"By participating in Read for the Record, I am able to read a quality picture book to children and join millions of others around the world to raise awareness about the importance of early literacy," said Angelia Caldwell, UM literacy teacher for CELI. "Introducing children to early literacy skills before kindergarten provides children with important key language, literacy, and social skills that children need to succeed in kindergarten."
Jumpstart opened its first Mississippi chapter in 2012 at UM. Since then, CELI has led the effort to expand Jumpstart statewide by partnering with Mississippi University for Women and the University of Southern Mississippi.
By Meaghan Flores