Giving Day 2021 at the University of Mississippi aims to bring the entire University community together to support academic and athletic experiences on campus.
The second annual UM Giving Day launches at 9 a.m. (CDT) on Tuesday, April 13 and will last 1 day, 8 hours, and 48 minutes in honor of the University's founding in 1848. Giving Day officially ends at 5:48 p.m. (CDT) on Wednesday, April 14th.
Throughout the online and social media campaign, several giving challenges will be set to inspire others to give make and amplify their donation, no matter the amount.
Four generous School of Education alumni are hosting challenges to support all areas of the SOE: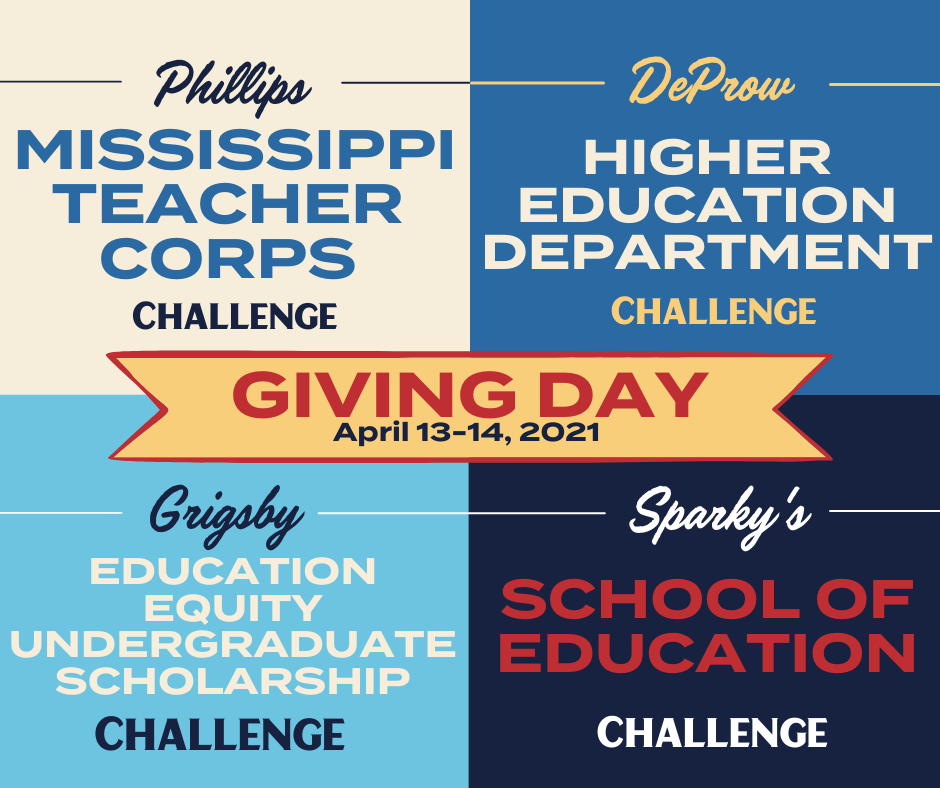 The Frances Phillips (B.A. '68) Mississippi Teacher Corps Challenge will unlock $1,000 when 15 donors contribute to the Mississippi Teacher Corps.
The Dr. Summer DeProw (Ph.D. '14) Higher Education Department Challenge will unlock $1,000 when 15 donors make a gift to support the Higher Education Department.
The Dr. Kathleen Grigsby (M.Ed. '99) Education Equity Undergraduate Scholarship will unlock $1,000 when 20 donors give to support the Education Equity Undergraduate Scholarship.
The Dr. Sparky Reardon (Ph.D. '00) School of Education Challenge will unlock $10,000 when 60 donors make a gift to any area of the School of Education. This also includes the donors listed in the aforementioned challenges.
Gifts of all sizes from any member of our School of Education community are accepted during Giving Day. Be sure to follow our social media pages for updates throughout the Giving Day campaign.
To make a gift, please visit our campaign page at https://givingday.olemiss.edu/amb/SOE. If you have questions or wish to learn more about Giving Day, contact Development Officer Kelly Smith Marion at ksmith13@olemiss.edu.