Abby Newton leaves her mark on campus with Kindness Club.
In high school, Abby Newton spent a summer working alongside people with disabilities. It cemented her career path, but her journey wasn't direct. Newton knew she wanted to advocate for people with disabilities. She thought a career in lobbying or nonprofits was on the horizon, so she spent her first two years at the University of Mississippi studying public policy.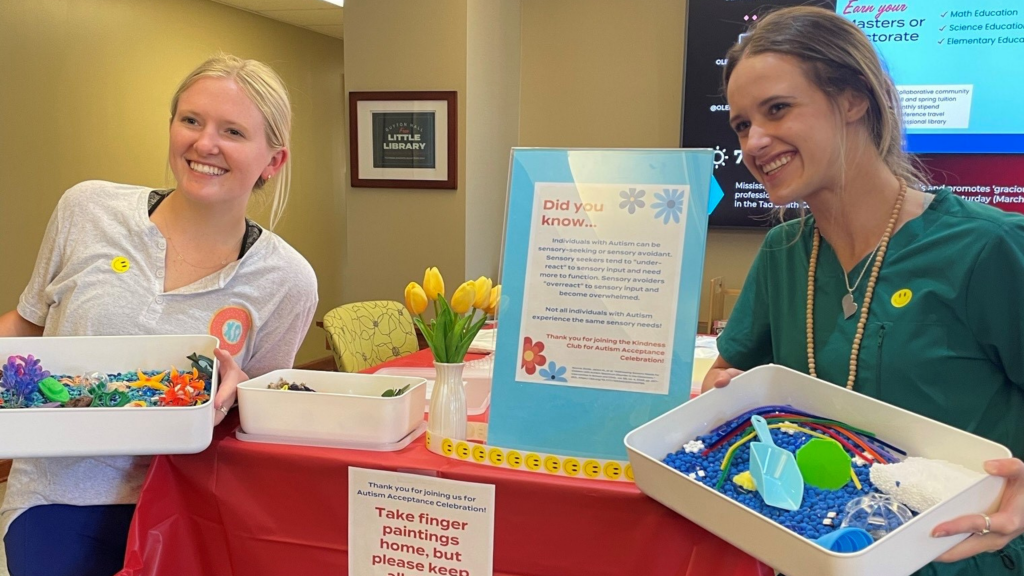 Image: Abby Newton, senior special education major, founded the Kindness Club. Submitted photo
"It felt unnatural," Newton said. "I was solely behind books. I missed being beside people."
As she prepares to graduate from Ole Miss with a bachelor's degree in special education, Newton looks back confidently on her decision to switch her major to work more closely with the populations she cares about. She continues to be motivated by research demonstrating how inclusion-based activities benefit people with disabilities.
"Students with disabilities sometimes become passive recipients of others' service instead of being enabled to play an active role in contributing to service," the Jackson native said. "Studies show that when volunteers parachute into a project to coach people with disabilities, there are fewer benefits than when groups work together on a service project.
"In the second scenario, people are more likely to develop strong relationships."
Newton's adviser, Sara Platt, explains it this way: "Acceptance is inviting someone to the party. Inclusion is asking them to dance."
This version of inclusivity is true for Newton herself. Her passions for people with disabilities were cultivated the summer she spent at Capernaum, a camp that bolsters a sense of belonging for people with disabilities. She folded laundry alongside Maggie, a girl with Down syndrome.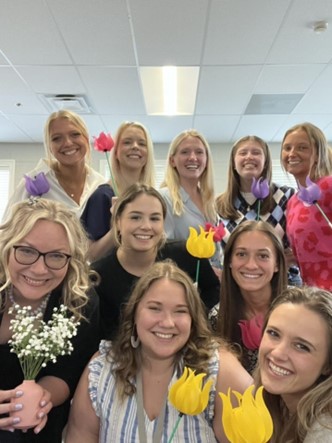 Image: Special education seniors gather with Newton's adviser, Sara Platt (bottom left), for a celebration before graduation. Submitted photo
"It wasn't an activity where I was coming in to edify someone else," Newton said. "Maggie asked unanticipated questions, and she approached things from angles I had never considered. Her perspective made me look at the world differently."
Newton wanted to foment those strong bonds on campus, and she wanted education majors to be exposed to easy, accessible activities that could be implemented in their future classrooms. So, she created the Kindness Club.
Events hosted by the Kindness Club are designed to foster greater empathy and understanding for people with disabilities. For National Autism Awareness Day, the group hosted different sensory activities to demonstrate methods of self-soothing that are often effective for those with autism.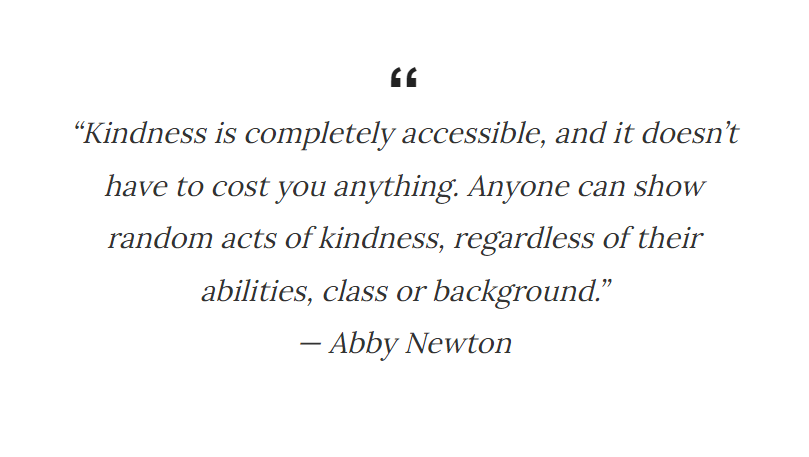 "We want educators to better understand people with disabilities and to encounter the sort of difference they will later see in the classroom," Newton said. "The other key thing is these activities can benefit everyone, even neurotypical people working through stress."
Newton also facilitates panels where teachers can learn from families what it is like to be a family member to someone who has a disability.
But the Kindness Club's most prominent activities are random acts of kindness. One recent activity included creating appreciation flyers for women's history month. The group designed the flyers together and distributed them to female faculty and staff within the School of Education.
Accessibility is the throughline connecting the disparate activities of the club.
"Kindness is completely accessible, and it doesn't have to cost you anything," Newton said. "Anyone can show random acts of kindness, regardless of their abilities, class or background."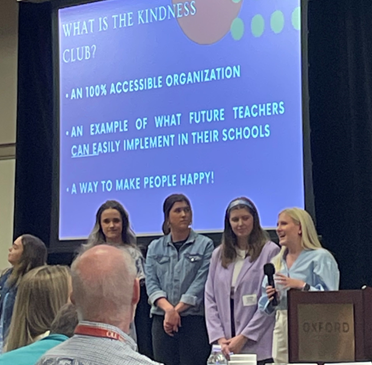 Image: The Kindness Club presents at the Equity in Education Summit, inviting teachers to participate in National Bus Driver Appreciation Day. Submitted photo
The club helps students to make connection throughout the LOU community, Platt said.
"In the classroom, there isn't enough time to do some of these projects in the university and outside community," she said. "The Kindness Club gives students the opportunity to engage with the university community as well as the outside community and do simple random acts of kindness."
Newton intends the club to show future educators how easily inclusive activities can be integrated into their schools.
"Teachers are overwhelmed," she said. "In addition to their instructional duties, they have bus duty, they have hallway duty. Adding another club to their list of obligations won't be appealing if they have to start from scratch. Hopefully the Kindness Club can minimize the amount of upfront work required and show how easy inclusion can be."
Inclusion is far from a buzzword for Newton. She cares about outcomes.
"Students who are at-risk benefit significantly from participation in extracurriculars and social aspects of school," she said. "They develop soft-skills that increase motivation for learning and expose them to new experiences that can impact future career goals."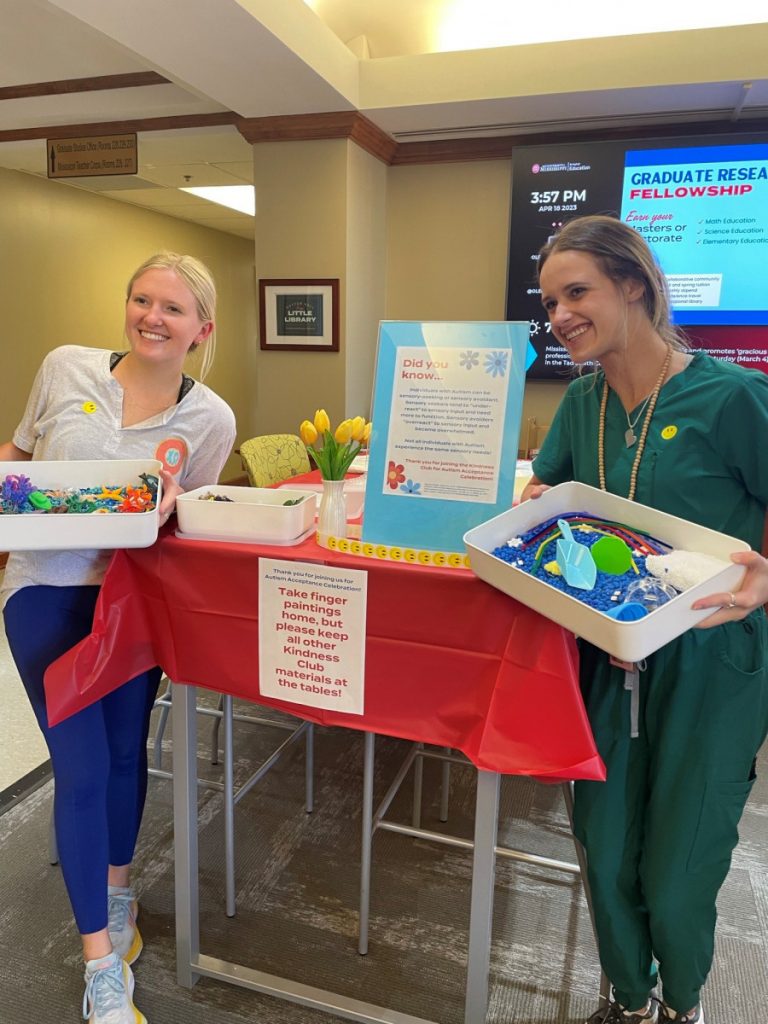 Image: Kindness Club President Abby Newton (left) and Secretary Kennedy Robinson set up for the Autism Acceptance Celebration. Submitted photo
After graduation, she intends to pursue a graduate degree in applied behavioral analysis.
In retrospect, the importance of bridging schooling and socializing seems obvious to Newton. To her, the community at the Ole Miss School of Education is unparalleled.
"You foster relationships with friends, faculty and staff," Newton said. "It's never just students trying to make things happen or professors trying to make things happen. The teachers are so invested in the students.
"My adviser, Dr. Sara Platt, any time an opportunity comes across her desk she considers her students' strengths and tags that person in. She's like, 'I have this idea, and I think you'd be great at it.' Those relationships made learning much more meaningful."
By Leslie Joblin, School of Education