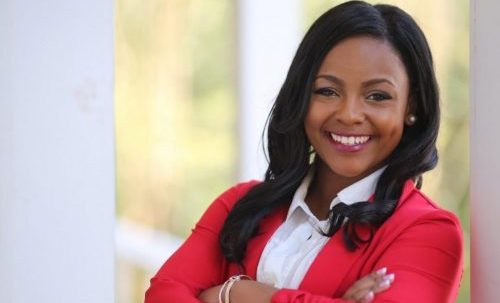 Recent SOE graduate Amber McFarland (BAEd 16) has been named Teacher of the Year at Rankin Elementary in Tupleo.
McFarland, a fourth-grade math teacher, was selected for the honor by her fellow teachers and attributes her success to her family and her training at the School of Education.
"I come from a long line of educators," McFarland said. "I've had a lot of guidance and support from my family. I have seen what they have done over the years and incorporated it in my classroom. I also learned a lot from Ole Miss about engaging students through movement."
McFarland explained that one of the most important aspects of her classroom management style is to activate her students' minds thorough physical activity.
"It's all about engaging the student in the classroom," McFarland said. "It helps them to learn better and remember what they're doing since it's not just lecturing. I like to give them real life skills and situations to learn through and we're always moving around and dancing."
McFarland takes an "interest inventory" at the beginning of the school year to evaluate how her students feel about mathematics. She has found that an overwhelming number of them do not like math at all.
Because of her passion for the subject, she works hard to change this perspective. She keeps a bucket on her desk for her students to drop notes in and at the end of her first year of teaching, it was flooded with notes from students telling her that they love math because of her.
"I have a motto in my class that we are the 'best of the best,'" McFarland said. "So, before we take math tests, I go over it with them and let them know that I don't ask for or expect perfection, but I do ask for them to do their best. That confidence does a lot for them, especially with my struggling students. They need to know that someone believes in them so they can begin to believe in themselves."
By Kathleen Murphy