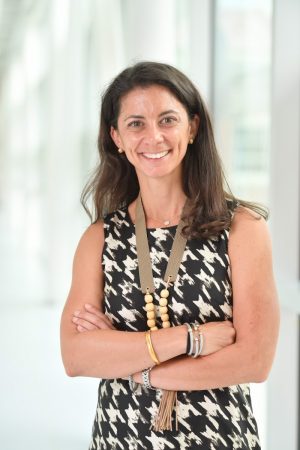 SOE alumna Shelley Clifford (BAEd 03, MEd 04) is one of four 2017 Practitioners of Distinction Award winners.
Online nominations for the 2018 Practitioners of Distinction are currently being accepted until Thursday, March 15.
Clifford has served as the head of the lower school at Mount Vernon Presbyterian School for six years in Atlanta. Prior to her leadership position at Mount Vernon, she served as a third, fifth and sixth grade teacher for seven years in Memphis, Tennessee, and Charleston, South Carolina.
We recently sat down with Clifford to speak with her about her time at UM and her career in education.
What was your student teaching year like at the School of Education?
My time at the School of Education was incredible. I got to be really close to the professors and they invested a lot of time in me. Ms. Gary was my (student teaching) supervisor and everybody on that hall learned who I was and they tried to push me and challenge me and put me in schools and opportunities that they felt would be the best for me so I'm really thankful for that student teaching year.
What advice do you have for future teachers?
One thing that I don't think I realized when I was a student was how many opportunities there are in education, so I would advise graduates to really look at schools and study what they are and what their mission is. Every school is different. I think it's important to do something you believe in. I happened to have landed in several very innovative schools where they're trying to redesign the way children experience school by figuring out how we naturally learn and how children can make a difference in the world now and so that's been a great fit for me, but I know between public schools and charter schools and private schools that there are lots of opportunities and you can do things with your children that influence the local community and the global community and I don't think I realized that schools could have so many different models and so many different missions when I was just coming out.
What has been most meaningful to you in your career?
The people have been most meaningful. I surrounded myself with passionate people who push me and inspire me and encourage me to take risks. I think if you can find a community like that where every day you're excited to sit at the table among brilliant thinkers and people who will really challenge the status quo to make things better, you really have it made. I've had that in three fantastic schools in my career. As I've met candidates and students I've tried to be that person to help connect them with networks like that.
What did winning the Practitioner of Distinction Award mean to you?
It's really humbling to be here and be celebrated because everything I've done has certainly been part of a team and I have a lot of credit to share. I hope that this is an opportunity for me to reconnect with Ole Miss and one of the things I talked to Billy Crews [UM School of Education Development Officer] about is, how I would love to come back and spend time with education students and how much I would love to bring them from Ole Miss to Atlanta to see a school that is doing something in a really different and in a bold way so I hope that there's an opportunity to get more involved and to give back some and break down some of the distance that currently exists between where I am in Georgia and Ole Miss because it was such a special place to me.
Nominate a UM School of Education alum for the 2018 Practitioners of Distinction Awards today!
Story by Kathleen Murphy, interview by Andrew Abernathy