Ty McNamee and Erika LeBlanc receive support for projects focused on gender and sexuality.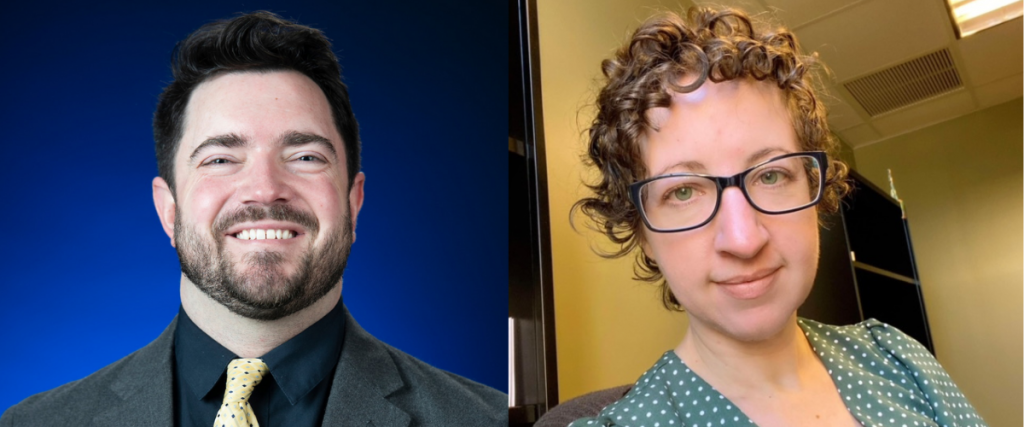 Image: Ty McNamee, left, and Erika LeBlanc, right.
By Leslie Joblin
OXFORD, Miss. – Two University of Mississippi faculty members from the School of Education have been named Sarah Isom Center for Women and Gender Studies fellows for the 2023-2025 cohort.
The two-year fellowship provides a total of $9,000 to support research projects focused on gender and/or sexuality, according to center director Jamie Harker.
Ty McNamee, Assistant Professor of Higher Education, will use Isom's support to create a pilot study of the higher education experiences of queer, rural students attending a larger, southern university.
"Higher Education settings have grown increasingly accepting of LGBTQ+ students, which is great, but, ironically, those same students can find their campus less inclusive towards those with rural backgrounds," McNamee said. When home, these students might be judged for their sexuality and/or gender identity, then on campus, they may encounter stereotypes and limiting beliefs about people from their hometowns."
Rural students can benefit from targeted support and shared knowledge about how to navigate, access, and succeed in higher education contexts, McNamee said.
Only 56% of students from rural schools in the U.S. enroll in college; of those who enroll, only 41% graduate with a postsecondary degree within six years.
"Rural students may struggle navigating a large, bureaucratic institution after coming from a small town where they knew everybody. They may not be as likely to take advantage of opportunities like office hours if their parents did not go to college and can't relay expectations," McNamee said.
"Even the language used on campuses can be mystifying for rural students who often know a completely different set of jargon and acronyms unrelated to higher education."
McNamee wants to ensure that rural, LGBTQ+ students get the university support they need to succeed; he also thinks that successful queer student organizing provides a roadmap for helping rural students succeed.
"We've seen LGBTQ+ students organize spaces where their voices can be heard, their problems addressed, and their unique perspectives appreciated; why not support rural students needing the same?"
McNamee's research also focuses on learning from rural students.
"Rural students bring unique skillsets and perspectives to the table, including knowledge about nature, working-class industries, science-based knowledge, and community-building."
Erika LeBlanc, Associate Professor of Leadership and Counselor Education, will use Isom's support to explore how religious trauma and purity culture impact the sexual and mental health of college-aged women.
"Sometimes society would prefer to take sexuality out of the equation of being human, and discussion of women's sexuality can be seen as especially taboo, but women are sexual beings, and the ability to develop a healthy sexual identity can positively influence women's overall health."
Positive outcomes of a healthy sexuality include increased self-esteem, self-awareness, confidence, autonomy, satisfaction, and mental health, LeBlanc said.
"College counselors have a unique opportunity to explore barriers to the development of a healthy sexuality and use their findings to educate the college community."
LeBlanc and McNamee will present at two more poster sessions intended to facilitate interdisciplinary collaboration across UM.