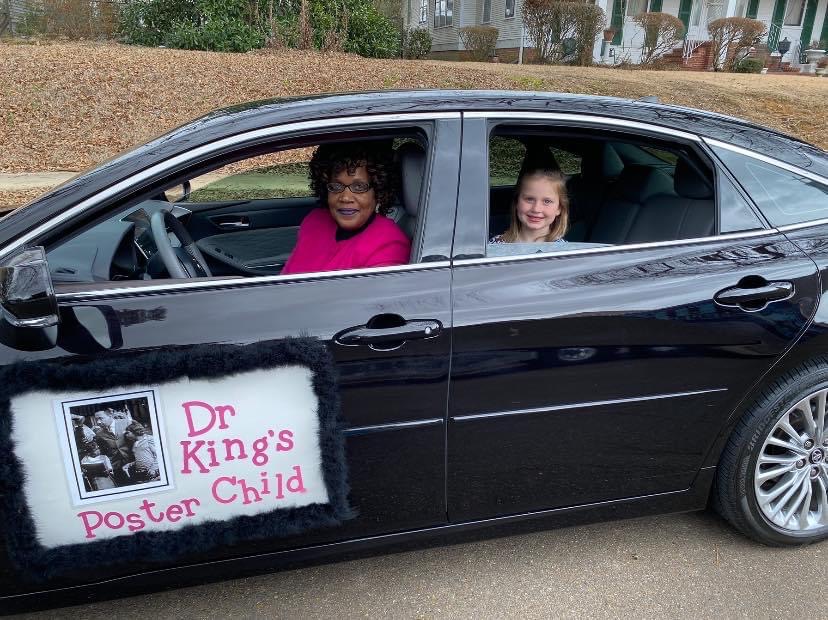 Image: Ms. Eva Lemon, 'MLK's Poster Child' poses during a ride in local parade with a young admirer.
Nearly 60 years after her image with Dr. King made its way around the world, Ms. Lemon joined Mr. Charles Latham in discussing their experience during the height of the Civil Rights Movement in Grenada, MS at the University of Mississippi on February 27th. This event sponsored by the School of Education's Office of Diversity offered the crowd an intimate and invaluable opportunity to hear first-hand accounts of Civil Rights leaders who fought long and hard before the term "educational equity" became fashionable.
Ms. Eva Grace Lemon bravely marched alongside Dr. Martin Luther King, Jr. in Grenada, MS in 1966, just shy of turning seven, Eva joined protesters seeking to integrate the Grenada school district, which was still segregated over a decade after the 1954 Supreme Court ruling of Brown v. Board of Education. "When we marched, all I could see were cameras. We got to the school and he [Dr. King] pat me on the back and said, "Don't be afraid, baby, go in and learn."
Her fear wasn't baseless. Police jailed seven-year-old Eva. "They put me in a big, black bus at my age…but they couldn't lock me up," Lemon said.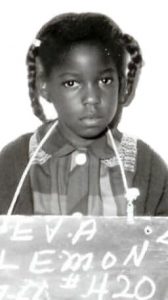 Over the next several days, students and their supporters were attacked by townspeople opposing the integration of black children in the schools. Left without police protection, Ms. Lemon's classmates and supporters were brutally assaulted until the Federal courts stepped in to put a stop to the Mississippi melee.
"I was very afraid of being around all the people. I knew of Dr. King, but I didn't know he was as important as he was until later when I became a teenager," says Lemon.
Image: Seven-year-old, Eva Grace Lemon's mug shot.
Now a Grenada High alumnus, Ms. Lemon still resides in the city and spends much of her time with her grandchildren and participating in discussions around the civil rights movement. She also participates in local parades and attends events with state representatives, like Miss Mississippi.
Her classmate, Mr. Charles H. Latham recalls having to leave the state of Mississippi after being kicked out of school in Grenada, MS. He joined the military. "As soon as I got out of the Marine Corps, I found myself in San Diego without a skill, so I went to a technical school and studied ship building."
After receiving his diploma, Latham worked for the Navy for over 20 years where he retired at age 51, but his heart desired to come back to the Magnolia State.
"I kept longing to come back to Mississippi. I always wanted to come back but on my own terms."
Mr. Latham returned to Mississippi where he has run for mayor of Grenada, MS and serves on the city-wide board for racial reconciliation.
During his visit on the UM campus Monday evening, Latham received an emotional surprise by Grenada High School's first black valedictorian, Minnie Howard, a former classmate he hadn't seen since fleeing from the state. She also detailed similar harrowing experiences of racism and threats of violence from the Ku Klux Klan. "I was taken to the graduation site, and I gave my speech. After [the speech] I was taken home by police and was told I should go in the house and stay there because they feared I might be injured that night."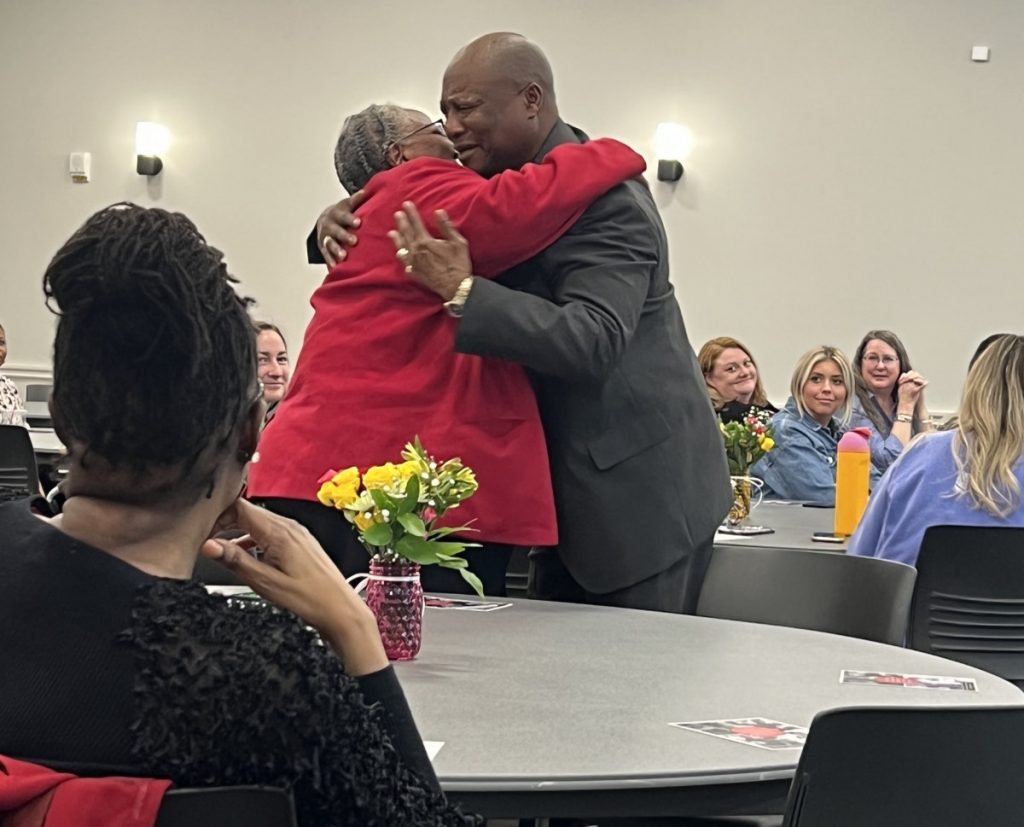 Texas native and School of Education student Abbey Shane felt riddled with emotion hearing the accounts of Mr. Latham and his classmates as a non-native Mississippian, "I did not get to grow up hearing personal stories about Civil Rights Movements. Having this first-hand experience got me emotional, and it will help me teach my students you just need to understand, accept and support those around you."
Image: Charles and his long-lost classmate, Minnie Howard reunite decades later.
Director of Diversity, Equity & Inclusion and Clinical Associate Professor at The University of Mississippi's School of Education, Dr. Karen Voncille Davidson Smith feels that reflecting on the past will help us forge a better path for the future.
"We must always be like the Sankofa bird, looking backwards to reflect, and then moving forward with new purposes. We need to focus on our history, so that the wise among us can learn from the fools' error and not go down the same paths. We need our history so that in the dark times. we can be encouraged by the victories of people who have accomplished much with very little. We need to understand the strategies that worked for us, as well as those that didn't. If we work together— we can continue to make great strides to a better future."
The event concluded with Ms. Lemon signing copies of her famous photo provided by The School of Education's Office of Diversity with the permission of Stanford University Libraries Department of Special Collections.
The event sponsored by the School of Education wraps up a month-long celebration of Black History Month and the commemoration of the 60th anniversary of integration on the campus of the University of Mississippi.
By: Adrienne Edney