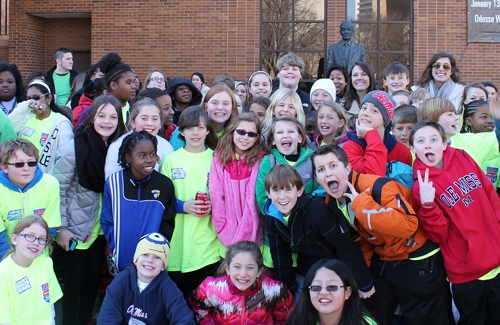 With nine fully loaded tour buses, the Ole Miss School of Education's Third Annual Rebel Road Trip provided a massive field experience for more than 120 senior teacher candidates and 380 local sixth-graders.
A collaboration with Oxford Middle School (OMS), UM education majors helped mobilize the field trip for sixth-graders on a two-day road trip to Birmingham, Ala., where the students, teacher candidates and faculty members from UM and OMS, visited the historic 16th Street Baptist Church, Birmingham Civil Rights Institute, McWane Science Center and Birmingham Zoo on January 23 and 24.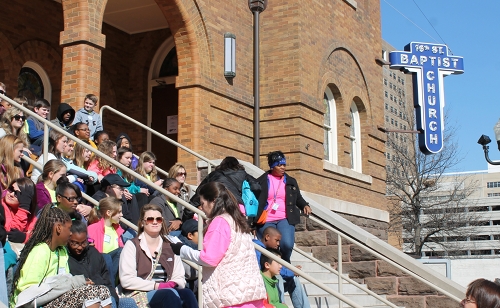 Originally designed as a learning opportunity centered around educating UM seniors on the history Civil Rights Era in the South, the trip was expanded in scope this year with the addition of students from OMS. Student teachers also had the opportunity to help sixth-graders learn about scientific concepts during an all-night lock in at the McWane Center.
"The purpose has changed, over the past three years," said Lauryn Duvalle, coordinator of the event and Americorps Vista Leader. "It was originally just for our seniors and it was an eye opener for a lot of them. The trip provides the opportunity to leave Mississippi to learn about educational and social issues in a historical context. But this year, it was all about the student teaching opportunity and the chance to influence children by taking them outside of the classroom."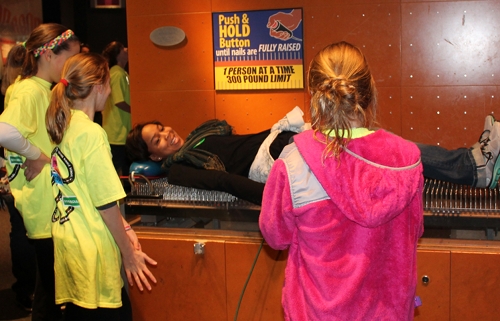 Each senior education major was assigned two to three OMS students to supervise throughout the trip and gained hands-on experience in leading field trips.
In preparation for the event, UM seniors and OMS students shared a common reading experience by reading the Newbery Award-winning novel "The Watsons Go to Birmingham" by Christopher Paul Curtis which is set in the midst of the 1963 16th Street Baptist Church bombing.
Additionally, the School of Education used the event to help raise funds to donate backpacks, school supplies and paper back copies of "The Watsons Go to Birmingham" to the Youth Opportunities Unlimited organization in Marks, Miss., which supports educational opportunities for children in critical-needs school districts. More than 50 students from the organization will go on a similar road trip on February 27.