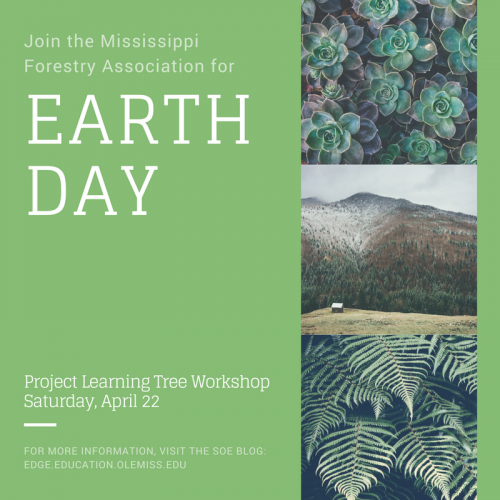 OXFORD — The Mississippi Forestry Association will host an environmental workshop for teachers this Earth Day (Saturday, April 22) at the University of Mississippi Field Station in Abbeville from 9 a.m. to 3:30 p.m.
The program, Project Learning Tree Pre-K-8 Workshop, will provide participating teachers with supplemental curriculum materials, lesson plans and activities to inspire their students to learn about the natural world inside and outside of the classroom. Along with an activity book of countless classroom resources, participating teachers will receive posters, handouts and pamphlets about Mississippi's natural resources for use in the classroom. The workshop will cost $40 and includes 0.6 CEU credits, as well as materials for the workshop.
Sponsored by the Mississippi Forestry Association, Project Learning Tree is an environmental education program that uses trees and forests as a primary focus not only to teach students, but to also aid in their understanding of the environment. The Project Learning Tree Workshop will help teachers integrate environmental education into their classroom lesson plans for all grades and subjects, and it will enable teachers to use the outdoors to engage students in learning about the environment and world around them.
The UM Field Station is a 740-acre research and educational facility designed to benefit visiting faculty and students, Mississippi schools, government agencies and the broader Mid-South community.
For more information, contact Education and Outreach Coordinator for the Mississippi Forestry Association, Zach Pardue at zpardue@msforestry.net.
By Liz McCormick