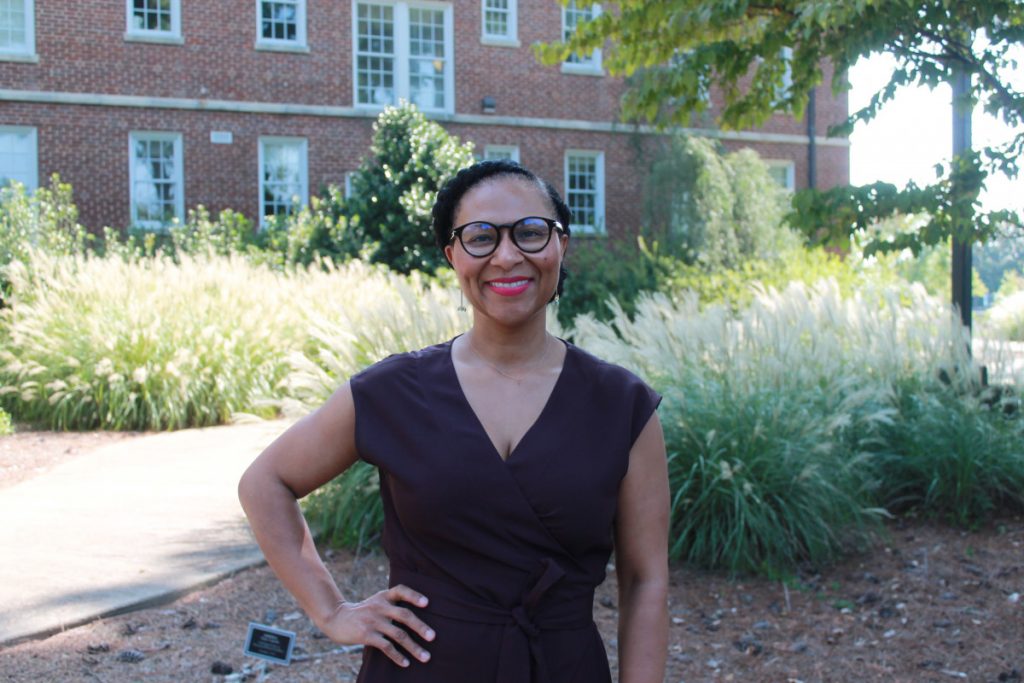 SOE Associate Professor Stephanie Lusk joined UM's counselor education program in August. An Altheimer, Arkansas, native, Lusk received an undergraduate degree in psychology and a doctorate in rehabilitation education and research from the University of Arkansas, as well as a master's degree in rehabilitation counseling from Arkansas State University. This semester, Lusk is teaching a doctoral course in multicultural counseling. We recently sat down with Lusk to learn more about her journey to UM. Read Lusk's take on running international marathons, medical marijuana research and self-care for graduate students.

Q. How did you end up at UM?
A. Arkansas is home for me, and I was excited about the opportunity to return and teach at the University of Arkansas a few years ago, but I started researching medicinal marijuana and CBD and was limited in the work I could do there. I was informed about a position at the University of Mississippi—and I have known of Ole Miss's research efforts in this area—so I was excited about the potential opportunity to work here. I know that the university is currently the only approved site at this point to grow marijuana for research, so I thought this was an amazing opportunity, so I applied. I'm really excited to be here and to be able to expand my research."

Q. Tell us a fun fact about yourself.
A. I run marathons. My sisters and I are a part of the Seven Continent Marathon Group. So, our plan is to run a marathon on every continent. The very first marathon we ran was in Athens, Greece, where we ran the original marathon course. We're running the Great Wall of China for our next marathon next year. I've also done two marathons here in the United States.

Q. What excites you the most about coming to the Ole Miss School of Education and the counselor education program?
A. What excites me the most is the opportunity to expand my research, but I also think Ole Miss has a wonderful reputation of educating students and producing leaders. It gives me an opportunity to develop new skills, to teach a wonderful new group of students. The teaching piece is really fun for me. I think another reason I'm excited to be here is because I still get to be a part of the SEC, so I'm really excited about that!

Q. What was your most pivotal moment or favorite memory from graduate school?
A. Graduating! I had a 2-year-old son when I started my doctoral program, and my goal was to finish before he started kindergarten. I was able to get it done in three years. I defended my dissertation on the fifth of August, and he started kindergarten on August 18th. It was pretty stressful, but well worth the effort to get it done."

Q. What advice would you give your counseling students as they begin a new school year?
A. I would tell them to make sure they are taking care of themselves. [That they are] making sure they schedule time for exercise, that they're getting enough sleep and that they're eating the way they're supposed to. I know that's easier said than done, but I really think it's important for students to take care of their physical and mental health because grad school can be especially taxing.

Q. Are you working on any books, journals, articles or publications currently?
A. I'm working with a couple of other individuals on a book that focuses on counseling supervision. The piece that I'm working on is supervising counselors who are working within criminal justice systems or working in substance abuse treatment centers. Oftentimes counselors don't have those experiences nor do supervisors, so I hope that this project sheds some light on ways to best support those working in these fields. I'm also working on a study right now which tracks individuals who are transitioning from opioid based medications for chronic pain conditions to CBD.We're looking at symptom relief, quality of life and factors like depression and anxiety.

Q. Do you have a favorite book?
A. My favorite book is The Alchemist by Paulo Coelho. It's about going on this journey of self discovery and there are some really beautiful passages in the book. One of my favorite passages is when he lays eyes on a woman and immediately falls in love with her. The author describes how time stands still for him, and, in that moment, he knows that she's the only one for him and she knows that he's the only one for her. It's just beautifully written and there are so many life lessons you can pick up from reading it.

Q. What is your dream vacation?
A. I travel quite a bit because I do consulting work, and a lot of that takes place over the summer, so I've traveled to a number of different countries. Last year, I was on my way to Malaysia, and I had a layover in Hong Kong. It was a 12-hour layover, so I was able to get out of the airport and see a little bit of the country. It was absolutely gorgeous, so that's definitely a place I would like to visit again. It has beautiful beaches and some amazing things to see and do there, so I'm hoping to get back within the next year.

Q. Is there anything you would like to add?
A. I know I'm just a few weeks in, but I have found that the faculty and staff here are just absolutely wonderful. Everyone has helped me to transition into Oxford and the university, so it's been a really good experience so far.

By Meaghan Flores