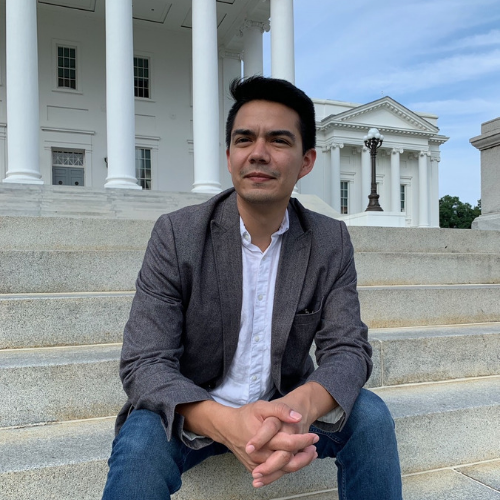 SOE Assistant Professor Frank Fernandez joined the Department of Higher Education in August. Fernandez writes about educational equity and policy issues; graduate and professional education; and international education. He is the author or co-author of numerous articles published or in press with The Review of Higher Education, Journal of College Student Development, Higher Education, Educational Policy, Teachers College Record, Journal of Diversity in Higher Education and Penn State Law Review, among others. Fernandez shares his current projects, teaching style, and advice for graduate students.
Q. Tell us something interesting about you (a fun fact).
A. When I was reading David Sansing's The University of Mississippi: A Sesquicentennial History, I learned that a Fernandez (Henry Gore Fernandez) attended Ole Miss and was a member of the Senior Class of 1861. I can't prove any relation, but I like to think that maybe at some level I have a longstanding connection to Ole Miss.
Q. What excites you most about coming to the University of Mississippi School of Education, Department of Higher Education?
A. The colleagues. I recently finished co-authoring a book with Professors Hutchens, Hephner LaBanc, and Melear. Even with all of today's digital communication technologies, there's no substitute for being able to walk down the hall and talk with a colleague about a collaborative project.
Q. What was the most pivotal moment/event as a graduate student?
A. I can't think of a single moment or event; graduate training is a process. There were so many influential people and experiences, and relationships with those people and experiences continue to play out to this day. I'm happy to talk about my days at Penn State over a cup of tea.
Q. What books, journals, articles, or publications are you currently working on?
A. This week I received a contract to co-edit a book on resilience and retention in STEM. I also have another book proposal out for review that is a case study on academic leadership in striving universities. I'm finishing interviews for a third book project that focuses on organizational learning and improvement through the context of the institutions accreditation process; that's been a really fun project, because I've been traveling and interviewing administrators at two- and four-year schools (including several HBCUs) throughout the South. I have about a dozen journal articles and book chapters on various education policy issues that I plan to have wrapped up about one year from now.
Q. What graduate courses are you teaching?
A. I'm teaching a special topics course on assessment, evaluation, and accreditation this fall. I'm planning on teaching qualitative methods in spring 2020.
Q. Describe your teaching style and philosophy.
A. I love research, but I think teaching is the most important thing I do. The best hope I have of helping to improve higher education is to help graduate students improve their skills so that they can go out and make campuses better for students. On a more practical level, I try to avoid lots of PowerPoint presentations. I think PowerPoint was such a novelty for a while that there was a generation of professors (and students) for whom PowerPoint was the main way of presenting information. I focus on requiring reading before class and then facilitating discussion and group conversations in class. Finally, I like giving shorter writing assignments and providing lots of feedback to help students improve their writing. I want to help students be better writers.
Q. How do you feel your teaching style can best serve our student population?
A. I like to create opportunities for students to learn and practice skills (research and writing) that will help them make progress on their dissertations. In my experience doctoral students tend to really appreciate that.
Q. How would you mentor graduate students?
A. I believe in group mentoring. I like to encourage students to learn from each other and to practice giving each other feedback. I also believe in learning by doing, and I invite strong master's and doctoral students to help with research projects and co-author publications. I know that the reality is that students enroll in grad school so they can get a good (or better) job; I always keep that in mind when I'm giving students advice.
Q. What advice would you give new and returning graduate students?
A. Be your own advocate but also remember your responsibilities. I want to help students get the most out of graduate school, but I can't really do that if I don't know what their goals are or what they're trying to get out of the program. I like when students let me know what they're looking to achieve so I can try to help them get there. Yet, students also have to remember that nobody can write their dissertation for them; it's a professor's job to advise but not to write. Learn to love writing.
Q. Anything you would like to add?
A. I'm honored to be joining the department.