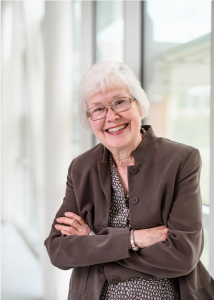 Jean Shaw is the first former UM School of Education faculty member to be inducted into the SOE's Hall of Fame. A professor emerita, Shaw has taught students from pre-K to graduate school and experienced a 40-year career in education—including 30 years at Ole Miss from 1976 to 2006
She holds a mathematics  degree from Bradley University, a master's degree in mathematics from Northwestern University, a Master of Education degree from Ole Miss and a doctorate in education from Columbia University.
Jean Shaw has positively impacted thousands of lives through her teaching and the teaching of her Ole Miss education students. We recently sat down to speak with Dr. Shaw about her experience as an educator and UM professor.
Can you share an experience that influenced you when you were a student at Ole Miss?
I came to Ole Miss under unique circumstances. I had degrees in math from Bradley and Northwestern. I came to Mississippi wanting to be a housewife because I had two young children. But, when September and late August came along, I realized that I missed school. I had been a high school teacher and a middle school teacher, but I was fascinated with how little kids learn math. So, I decided to go back to school and earn credits in elementary education. I was welcomed at the School of Education. I got my certification and master's in elementary education. Then, I went on to become an officer in the (Mississippi Early Childhood Association). That was really influential. I met the most dedicated and knowledgeable people.
What advice would you like to give to current education students ?
Education is a very, very rewarding thing to work at, but it's tough. There will be situations when you will have to stand up and do what's right. But, keep in mind that we are educating tomorrow's citizens and taxpayers. That's very important. For those in elementary education, I would say that reading is extremely important. But, I am also an advocate for math and science. Math and science are so important for everyday life and the future of our country. As teachers, we need to pay attention to our students and help them succeed.
What does it mean to you to be inducted into the School of Education Hall of Fame?
It was a surprise. It is quite an honor. I appreciate it very much.
What did you enjoy most in your education career?
As a professor, I had a lot of opportunities. I had opportunities to meet people, to travel to conferences, to speak at conferences, to be on editorial boards and to be around very knowledgeable people. Working alongside dedicated educators and dedicated students and student teachers was really was inspiring. That's what I enjoyed most.
Story by Kathleen Murphy, interview by Andrew Abernathy