25 Coaches Receive the Mississippi Excellence in Coaching Fellowship
By Leslie Joblin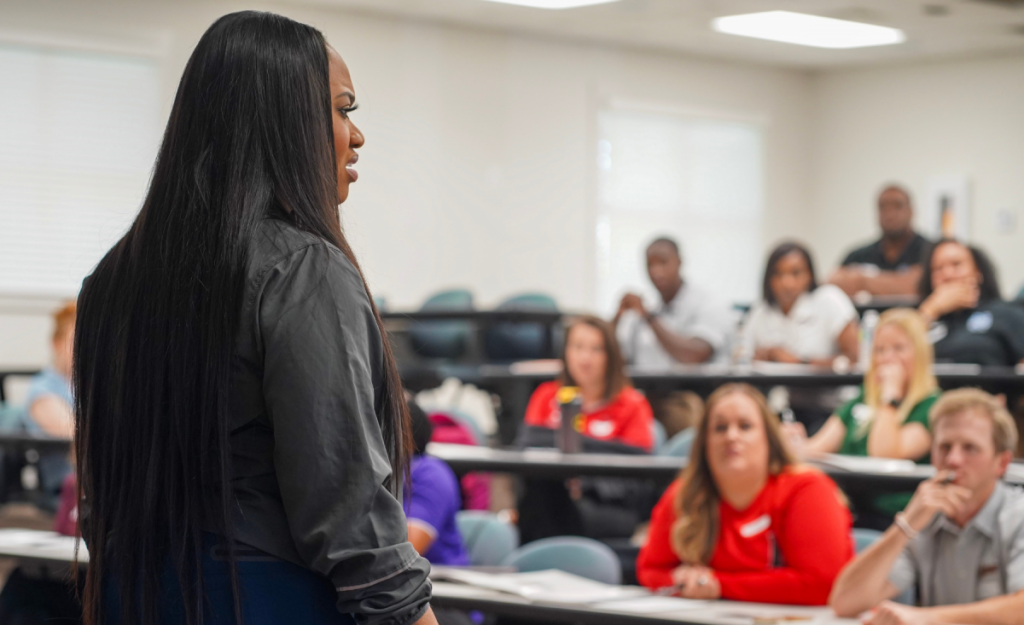 Image: Tomekia Reed, Head Coach of Women's Basketball at Jackson State, speaks to the new class of fellows.
OXFORD, Miss. –The Mississippi Excellence in Coaching Fellowship formally inducted its second class of coaches this month. The program is hosted by the University of Mississippi School of Education in partnership with the Mississippi Association of Coaches and the Mississippi High School Activities Association.
The program was conceived in 2022 by Hunter Taylor, Ole Miss clinical assistant professor of teacher education. "The aim is to improve coaches' ability to foster teams that produce resilient, empathetic, and responsible student athletes," Taylor said.
"To do so, we had to figure out how to cultivate and model generosity and collaboration in a highly competitive profession."
Fellows must represent the values of the program: a desire to develop young people for life within the context of sports and a commitment to place.
The emphasis on commitment speaks to the teacher shortage in the state and the decline in coaches who stay in the profession for more than 10 years, Taylor said.
"There is plenty of research that shows the benefits students receive from a school district that has continuity in personnel," he said. This fellowship is one proposed solution to help combat our best teachers and coaches from burning out."
In its inaugural year, the program focused on rebuilding a program in year one, implementing a leadership program during the offseason, and preparing for a head coaching interview.
"I loved how honest and transparent my cohort members were during our time together," said Mandy Moore, Charleston High School basketball coach. "We learned that we share similar, if not the same struggles."
The program hosted 10 different speakers from Mississippi Universities, including Mike Clement (Ole Miss Baseball), James Miller, (Mississippi State Men's Basketball) and Tomekia Reed (Jackson State Women's Basketball).
This year, program leaders intend to cover how to combat the decline in girls' sports participation post-Covid, how to better connect school programs to youth leagues, and the future of Name, image and likeness regulations in high school athletics.
"It is truly an honor to be selected for this great coaching fellowship," said Brandon Jackson, Tupelo High School football and powerlifting coach. "I hope to use what I learn in this fellowship to better out school, our community, and our state."
This year's fellowship recipients and their schools are:
Victoria Anglin, Cheer, Petal School District
Shane Baltz, Track and Cross Country, Senatobia Municipal School District
Allyson Brooks, Volleyball, Ridgeland (Madison County Schools)
Hawtin Buchanan, Baseball, Biloxi Public School District
Sanwaa Cooper, Bowling and Football, D'Iberville (Harrison County School District)
Drew Crowell, Baseball, Germantown (Madison County Schools)
Lauren Dixon, Basketball, Florence (Rankin County School District)
Logan Dodson, Football and Powerlifting, Oxford School District
Candace Foster, Basketball, Murrah (Jackson Public School District)
Nick Griffin, Football and AD (??), Perry County School District
Fred Hampton, Baseball, Lake (Scott County School District)
Allyson Hancock, Soccer, West Harrison High School (Harrison County School District)
Eddie Ivory, Football and Basketball, Gentry (Sunflower Consolidated School District)
Brandon Jackson, Football and Powerlifting, Tupelo Public School District
Caronica Debose Jackson, Basketball, Hattiesburg Public School District
Keisha Keyes, Volleyball, Tennis, and Athletic Coordinator, Gautier (Pascagoula-Gautier School District)
Michael Lindsey, Baseball, Meridian Public School District
Candice Maloney, Soccer and Assistant AD, Northeast Lauderdale (Lauderdale County School District)
Kasey McCann, Softball, George County School District
J.K. McWilliams, Basketball, Brandon (Rankin County School District)
Katelyn Robbins, Soccer, New Albany School District
Terrance Robinson, Track and Football, Madison Central (Madison County School District)
Jeff Stockstill, Football, Pass Christian Public School District
Semaj Williams, Football and Basketball, West Bolivar Consolidated School District
Tiffany Wilson, Basketball, Quitman County School District