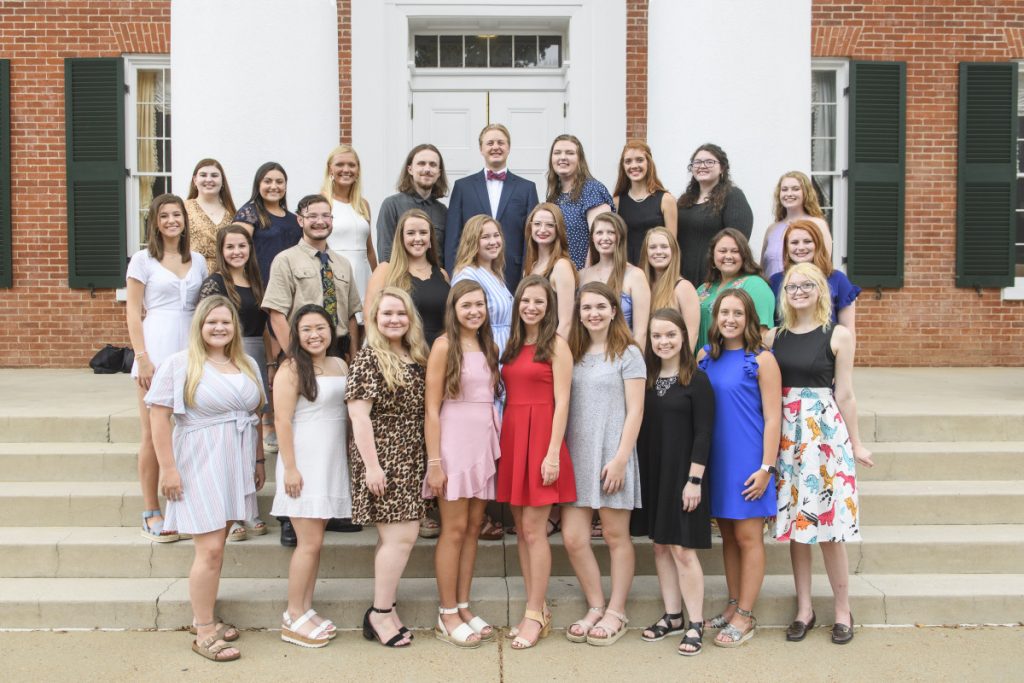 OXFORD, Miss. – The seventh cohort of the Mississippi Excellence in Teaching Program at the University of Mississippi consists of 28 outstanding freshman from eight states with an average high school grade-point average of 3.91 and ACT score of 29.3. 
The new class brings the number of METP scholarship recipients at Ole Miss to 174 since 2013. The new cohort is comprised of 10 elementary education majors, five English education majors, three math education majors, six science education majors and four special education majors.
The incoming freshmen include: Savannah Armistead of Columbia, Missouri; Erin Brechtel of Gulfport; Katherine Clark of Southaven; Chloe Crane of Euless, Texas; Caroline Cross of St. Louis, Missouri; Hannah Davis of McComb; Charles Deaton of Jackson; Lauren Fiedler of Sappington, Missouri; Holly Gardner of Lansdale, Pennsylvania; Raegan Gourley of Madison; Hailey Hamil of Suwanee, Georgia; Celia Hunt of Milton, Georgia; Matthew Jalufka of Ocean Springs; Mary Kellum of Memphis, Tennessee; Camryn Long of Brentwood, Tennessee; Sebastian Mink of Long Beach; Eleanor Perkins of Tupelo; Addison Phelps of Columbia; Shelby Phillips of Hattiesburg; Anna Robinson of Olive Branch; Kylie Scott of Bowling Green, Kentucky; Emily Smith of Booneville; Madelyn Solari of Ridgeland; Sadie Stocks of Brandon; Taylor Swartz of Austin, Texas; Kathleen Tune of Chester, New Jersey; ThiCat Vu of Gulfport; and Jordan White of Pelahatchie. 
METP is designed to prepare students for careers in secondary, elementary and special education. One of the most sought after scholarship programs in the country, METP provides students with up to four years of tuition, housing, living expenses, a study abroad experience and more. 
Most importantly, METP students get the opportunity to enter the classroom to observe and interact with students much earlier than traditional education students.
"The most important thing we do is what I like to call early and often education exposure," said Blake Adams, METP coordinator. "A traditional School of Education student does not begin to observe in classrooms until late sophomore year, but METP students get to enter their freshman year and go every week. 
"Not only do they get additional hours in the classroom, but they get exposed to that kind of learning earlier and hopefully that makes them a better professional after graduation." 
METP is financially supported by the Robert M. Hearin Support Foundation of Jackson and was established in 2013 with a $12.9 million investment. Since then, the scholarship was renewed in 2016 with a second investment of more than $28 million, which will fund the program through 2023.
A joint effort with Mississippi State, which recruits a partner cohort each year, METP is designed to help stimulate Mississippi's economy and invest in the future of education throughout the state. 
"METP is designed to attract high performing students, train them at the highest levels, and retain them in Mississippi," Adams said. "We feel that it's really important that we're attracting Mississippi students who know Mississippi K-12 education, but also out-of-state students who bring with them their own experiences." 
After graduation, METP members commit to teach in a public school in Mississippi for five years. However, this may be postponed for up to three years if graduates wish to pursue a graduate degree. 
With the third cohort graduating last May, 94% of program graduates are teaching in Mississippi public school districts.
"Since I was young, I've always wanted to be a teacher," Phillips, an elementary education major, said. "Being in a program that introduces me to a group of likeminded students is such a cool opportunity." 
Along with many other benefits, the program provides students with the opportunity to travel, exposing them to different ideas and perspectives that they can bring back with them to Mississippi. 
"I think seeing education in other countries can be a really awesome tool that we can bring back here," Scott, a science education major, said. "We get to see how they teach abroad and see what we like better or what we think might not work as well here." 
Sophomores travel to Washington, D.C., each winter to study American education through a policy perspective. And each summer, rising seniors travel out of the country to experience education through different perspectives, with past trips to Finland, Sweden, Canada, and more.
"I think this program is important because it really gives us the confidence that, while we're pursuing a degree in education, we will be respected and encouraged," Scott said. "Most of the time when you say 'I want to be a teacher' people tend to question why, but this program gives us the confidence that we are believed in." 
For more information about METP, you can visit http://metp.olemiss.edu/.

By Meaghan Flores